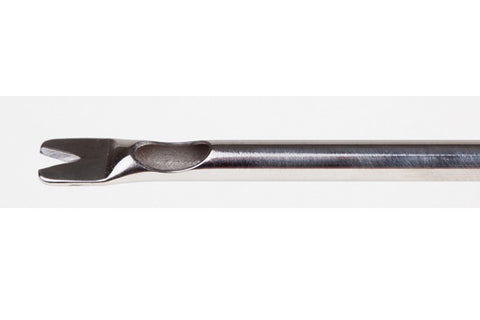 1 Hole V Reinjection Cannula - Luer Lock
3-C-1HV-18x8
One Hole V Type Re-Injection Cannula
3-C-1HV- diameter x length
Forked end to pre-tunnel injection site. Pretunnel or dissect tissue.
Stainless Steel. 
Autoclavable.
Select hub style, length and diameter.
For more specific sizes/lengths, please call 1.888.229.2875 or contact customer service at customerservice@innoviamedical.com.
These products cannot be sold to the general public and only sold to medical professionals

Cannulas are custom orders, please allow 10 days lead-time. No returns.

Lipocyte Friendly Harvest Cannulas:
Shippert Medical's cannulas for fat harvesting and reinjection are considered lipocyte friendly as they have been designed to obtain the ideal fat parcel size with optimal viability potential. The 4H and 24H harvesters and the 1H2 reinjector were designed based on research done by Georgio Fischer which indicated that a fat parcel the size of a rice kernel has a better chance of establishing a blood supply. The size of a rice kernel is approximately 0.100 in x 0.200 in.  Shippert Medical's harvest cannulas were designed using the ''rice kernel'' principle for hole sizes at the distal end of the cannula, therefore making them lipocyte friendly.
---
We Also Recommend